Wondering what we could possibly offer this spring to outdo our past years' Eating From the Archives events?
Do we have a doozy for you. Perhaps you may remember, with varying degrees of fondness or lack thereof, some of our past food events. The Convalescent's Banquet. Alaska Lunch. Lunch on the SS Provenance. Military holiday menus.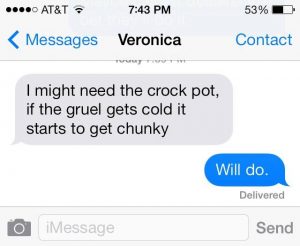 This year is going to be a little different. We're not providing recipes. We're not providing menu names. It's a real contest, with prizes! We have a panel of celebrity judges! (Well, celebrities to us, anyhow.) We're giving you way more lead time to figure out what you want to make!
The Chilkoot Challenge will be in the Archives research room, Consortium Library 305, from noon to 2, Monday, April 23, 2018. And the good news is, parking is free between 11:30 and 2:30 that day: in the big Library lot (to the east and north of the Library) and in the East Garage behind the Conoco-Phillips Integrated Sciences Building. Map here. Technical details for the Challenge below.
But first, a little background.
Most of you probably know the old story about the Gold Rush days in the Klondike. That the Mounties, tired of rescuing so many unprepared people, developed some standards that had to be met by people traveling to the gold fields via the Chilkoot Trail. A certain amount of provisions, most relevantly.
What not as many people know is that some of the mail order companies, such as Montgomery Ward, saw this as a splendid business opportunity. And they started offering pre-packed kits of clothing, first aid kits, and groceries for sale. You could pay to have them shipped to St. Paul, Seattle, or Ashcroft, BC.
We have a copy of one of Montgomery Ward's advertisements aimed at the gold seekers.
And that got us to thinking: What can you actually make from that list? Then we decided that we didn't need to determine what could be made, we'd leave it up to other people. And thus The Chilkoot Challenge was born.
Here's the ingredient list:
Flour
Corn meal
rolled oats
rice
beans
peas (split)
salt pork
sugar
baking powder
bacon
dried beef
baking soda
yeast
salt
evaporated condensed cream (we'll accept evaporated milk)
raisins
coffee
tea
soup squares (we'll accept bouillon)
pepper
mustard
dried apples
ground ginger
beef extract
dried peaches
dried potatoes
dried onions
Plus whatever you could have conceivably harvested from the trail along the way. Got some leftover frozen wild blueberries or salmon berries from last year's picking? Fair addition. Salmon, moose, and so forth. Water (though we ask you use either city water or bottled: please don't collect it from a nearby lake or stream: our health thanks you).
The Rules:
You don't have to use all of the ingredients. (Though if you think you can come up with something edible that uses dried peaches, coffee, and beef extract and all of the rest, go for it)
Make enough so our three judge panel can sample and some attendees can sample it too
Provide a list of the ingredients you used that can be exhibited with your dish just in case of dietary restrictions for attendees
Other details:
Please bring your pre-prepared food to the Archives by 12:00 noon on Monday, April 23 (the archives cannot provide cooking equipment or supplies)
Take some pictures of your cooking exploits and share via social media using the hashtag #chilkootchallengecooking or send copies to us so we can share them
If you need to serve yours using some sort of appliance like a crockpot, please contact us ahead of time so we can make sure we have appropriate electrical hookups
Bring your own serving utensils (we'll supply plates, forks, bowls, etc for those partaking)
The judging categories:
Most creative, yet edible, combination of ingredients
Best savory
Best dessert
What the vegetarian argonaut would have eaten
Crowd favorite
Our esteemed judges are:
Professor Tim Doebler, Director of UAA Culinary Arts, Hospitality & Restaurant Management Division
Assistant Professor Carrie King, UAA's College of Health, Dietetics and Nutrition Dept
Dean Steve Rollins, UAA/APU Consortium Library
If you have any questions about the event, please contact us using the Contact Us link above. We look forward to this year's event and welcome your participation!