November has come to a close, and while we normally try to get our monthly reports out before too long into the next month, the earthquake on November 30 put a dent in our plans (but not in our collections). We are back to normal operations and had some cleanup ahead of us, but no collections have been damaged from the earthquake. Just boxes and some folders, which are replaceable. However, for a majority of November, we had been busy describing new collections and additions to collections and speaking with donors.
Collections described:
HMC-0420: H.A. "Red" Boucher papers; 1942-1995, bulk 1978-1990. 2.0 cubic foot addition. "Red" Boucher was a member of the Fairbanks City Council (1961-1964) and mayor (1966-1970). He served as Lieutenant Governor from 1971-1974 under Governor William Egan. Thereafter, he became involved in various business activities. He later unsuccessfully ran for mayor of Anchorage and was elected to the Alaska House of Representatives where he served from 1984 to 1990. Boucher developed an interest in computers and telecommunications in the early 1980s and became a strong proponent of their development and use. The vast majority of this collection contains papers and files relating to the public career of H.A. "Red" Boucher.
HMC-0879: Catherine Stadem papers; 1927-2015. 0.01 cubic foot addition. Catherine Stadem is an Anchorage author and local theatre critic. The collection contains Stadem's personal records and review files, which include playbills Stadem used to write her theatre review columns. The collection also contains the research files, correspondence, photographs, and publication information for The History of Theatre in Anchorage, Alaska, 1915-2005 written by Stadem. Included in Stadem's most recent addition was her pilot's flight record pictured below.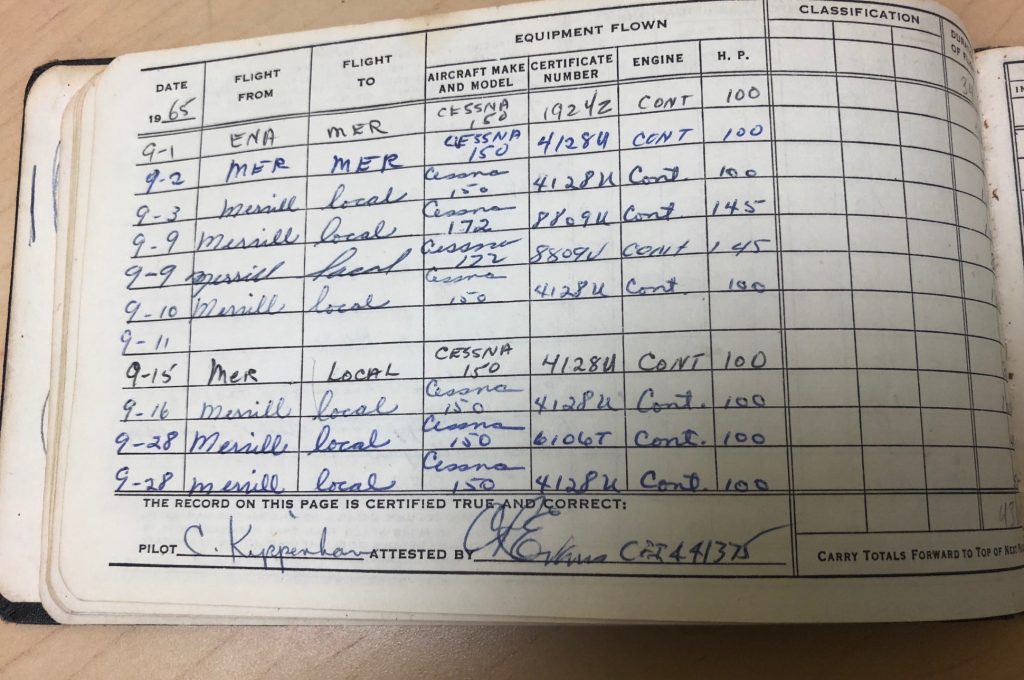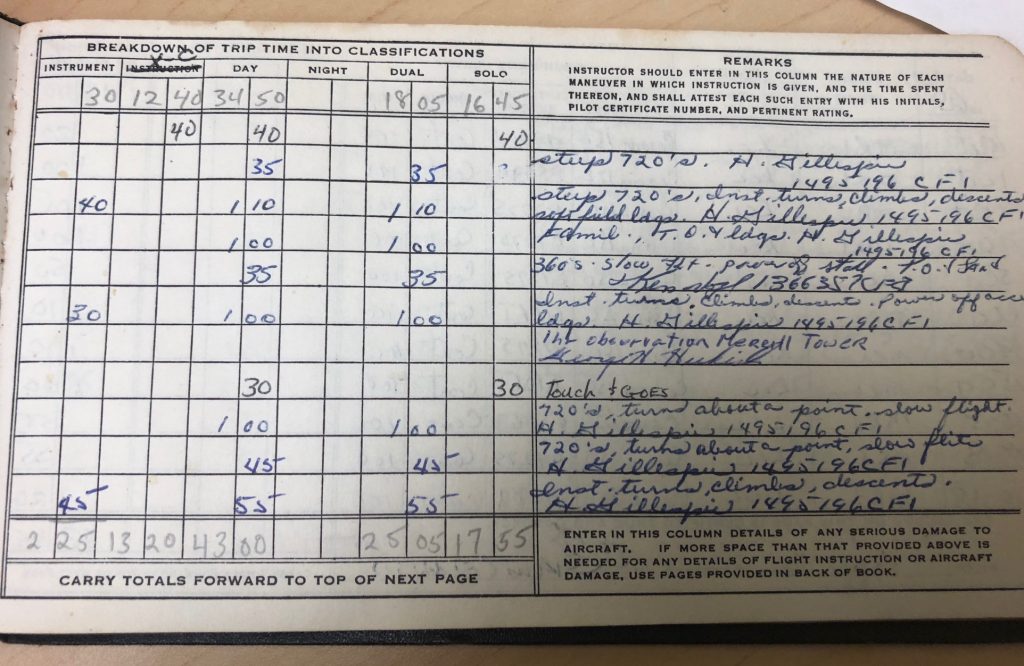 HMC-1222: ACF. Alaska Culinary Association records; 1965-2015. 0.02 cubic foot addition. Records of a non-profit professional organization of culinary professionals, restaurant managers and owners, culinary educators, and food purveyors.
HMC-1255: Michel Villon papers; 1966-2017. 2.2 cubic feet addition. The collection contains papers of Michel Villon that relate to his career as a chef. The collection includes work schedules and correspondence, thank you cards from classes he taught and events he volunteered for, photographs taken of the Crow's Nest and Prudhoe Bay, financial information and food costs, and Mt. Marathon planning, as well as materials used in courses he taught. Included in Villon's most recent collection is a photograph album from his time at the Crow's Nest, which is pictured below. The photographs in the album were put on Crow's Nest menus.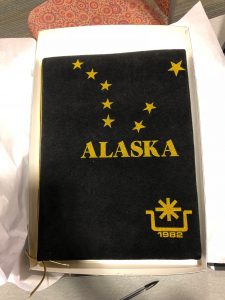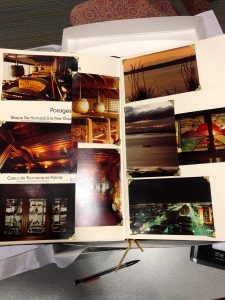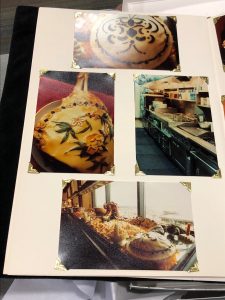 HMC-1270: Max Gruenberg papers; 1955-2016, bulk 2004-2016. 3.6 cubic feet and 4 MB addition. Max Gruenberg was a Democratic member of the Alaska House of Representatives. The collection mostly contains bills files, which include correspondence, drafts, Gruenberg's annotations, bill histories, fiscal notes, and amendments to various bills. The collection also includes photographs and constituent and legislative correspondence.
HMC-1302: William B. Workman papers; 1970-2005. 1.0 cubic feet. William B. (Bill) Workman is an archaeologist who has worked in a variety of Alaskan locations, primarily in southcentral Alaska. He received his PhD in Anthropology from the University of Wisconsin. He worked as a professor of anthropology at Alaska Methodist University from 1969 to 1976 and at the University of Alaska Anchorage from 1977 on. Between 1970 and 1976 he was contracted by Alyeska Pipeline Service Company to do archaeological surveys and expeditions along the proposed Trans-Alaska Pipeline route. The collection contains field notes, notes, correspondence, and a typescript copy of the final report on the Trans-Alaska pipeline archaeological survey. The collection also includes some correspondence, papers, and presentations including papers on the history of archaeology in Alaska.
HMC-1307: Bruno Kroon papers; circa 1919. 0.01 cubic feet. Bruno Kroon emigrated from the Netherlands to Oregon in 1910. In 1919, he worked in Alaska, probably at canneries in False Pass and Mozhovoi Bay. The collection contains photographs of his time in Alaska.
HMC-1309: Dennis Neill papers; 1989 April-May. 0.3 cubic feet. Dennis Neill was the Public Information Officer for the Rocky Mountain Incident Management Team, an interagency emergency response team made up of representatives from various federal agencies, as well as state and local governments. Following the Exxon Valdez oil spill on March 29, 1989, Neill worked for the Kenai Peninsula Borough as the Video Project Coordinator and was responsible for contracting to document skimming operations in the Elizabeth Island area, beach cleanup, boom deployment, bird and animal recovery, oil disposal, and administrative activities. The collection includes documents and video pertaining to the Exxon Valdez oil spill.
UAA-0133: UAA. Institute of Social and Economic Research Fiscal Policy papers; 1989 August-1999 October. 0.01 cubic feet. ISER began publishing its series of Fiscal Policy Papers in 1989 to examine the effect of declining oil revenues on Alaska's economy. The publication continued to analyze Alaska's economy and fiscal policy over thirteen papers dating from 1989 to 2003. The Archives holds numbers 1-9 and 12.
UAA-0134: ACC. Associated Students of Anchorage Community College records; 1970-1971. 0.01 cubic feet. This series includes records related to the founding of ASACC including the constitution, election records, a newsletter, meeting notes, and announcements regarding on-campus movies.
Collection pickup adventure
There is already a blog post about this, but a couple weeks ago, with the help of friends and coworkers, we went to a former Anchorage business, the Stake Shop, and removed campaign signs from the walls. With the approval of the current owners, of course.
Below are some photographs of the adventure, and for more information  and additional photographs you can also read the blog post. We would again like to thank Sigrid, Steve, Sam, Kevin and all of the others who were involved in letting us know these signs were here and for helping us remove them.
Below are before and after shots of the wall.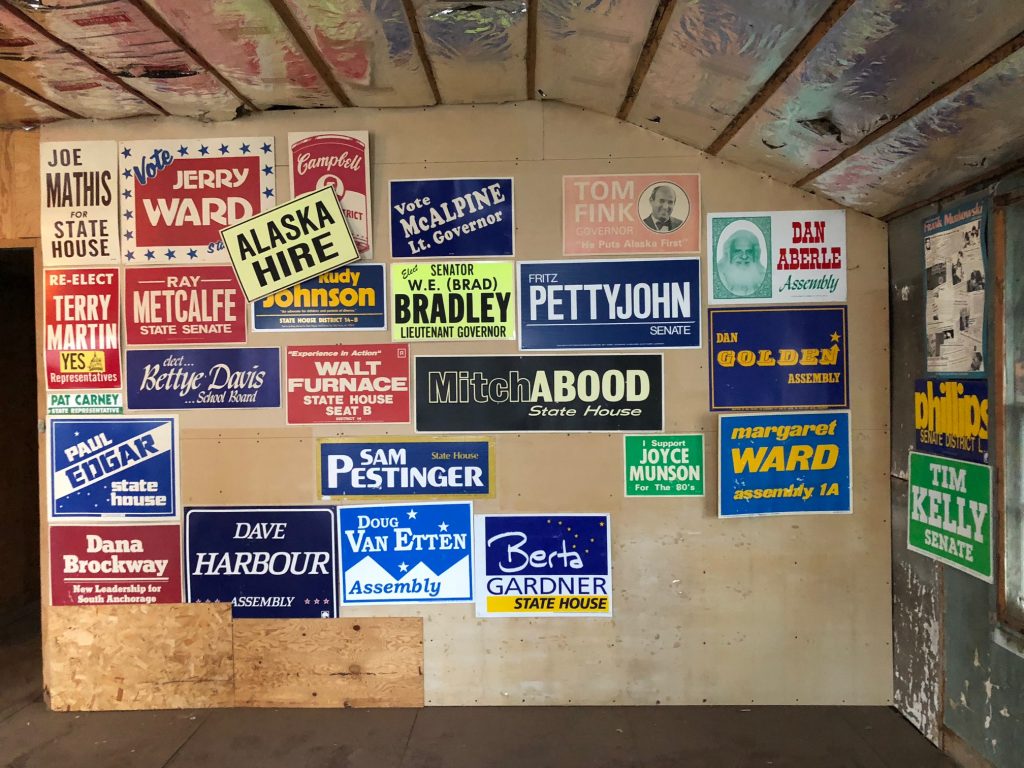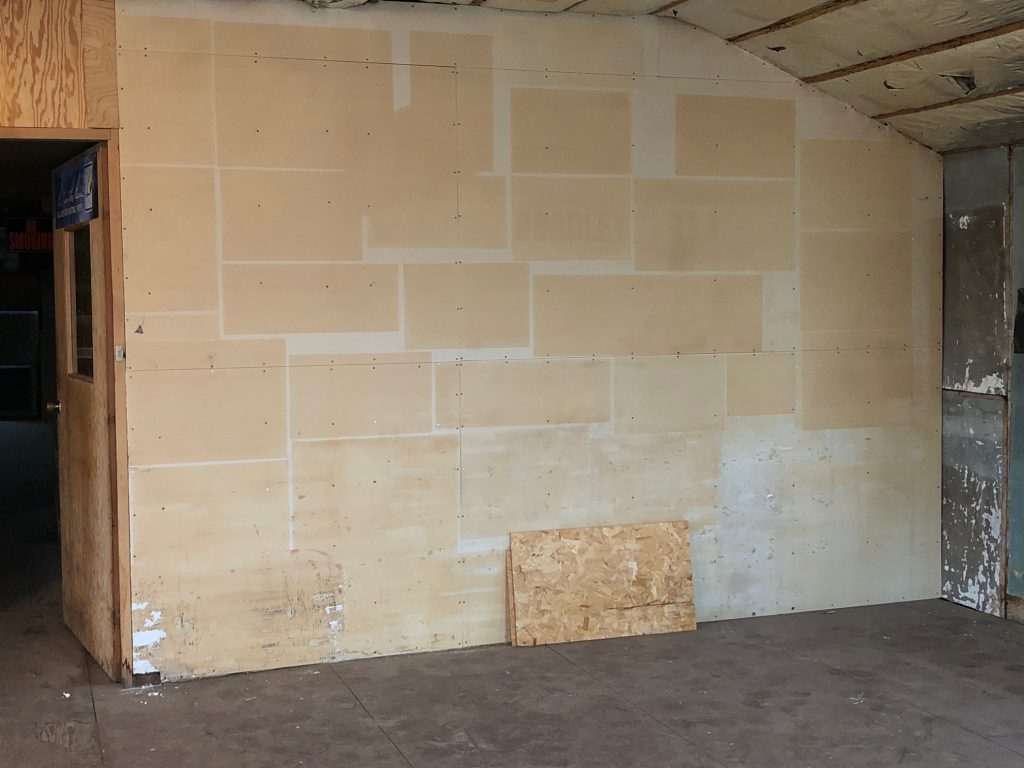 Archiving AK
In the most recent episode of Archiving AK, archivist Gwen Higgins speaks with Dr. Jennifer Stone, a professor of English at the University of Alaska Anchorage. Jennifer discusses her decision to incorporate archival research into her History of English Language course and what she has learned from having her students use archival sources for their projects. She also talks about her experiences using archives for her own research on language in Alaska.
You can find this and other episodes of the podcast right here on our website, on SoundCloud, and now, on iTunes.