We frequently get asked: "what's your favorite [collection/photo/document/etc]?"
That's a hard question to answer! And it's usually dependent on what we've had our hands on recently. By turns funny, sad, poignant, thoughtful, it can vary. This week, though, we've been on something of a humor kick. And in that spirit, here's three images that had each of us calling the others over to see it between laughs.
Arlene:
Group photos hold a special place in my heart, mostly because there's always at least one person in it doing something weird. But this group photo was a couple of steps beyond that. The group to the right posed for their portrait and looking perfectly composed juxtaposed against the group to the left gathered around somebody (maybe helping somebody up after they slipped on the snow?). But once I spotted the child in the upper left doing I-don't-know-what against that total lack of contrast background making it impossible to gauge distance, I lost it. I don't really have words for why this made me laugh so, but it did. I kind of want to start adding that child to all sorts of other photos. See what you think. From the CM Thurston photographs.
Gwen:
There are just so many things to love about this photo. The floral print dresses. The dance moves. The guy who is about a foot taller than the rest of his buddies, and consequently appears to be wearing a miniskirt. If you look closely, their sashes read "Miss" followed by the locations of various Army airfields in Alaska. And what about the gentleman in the hat? Is he stifling a laugh? About to be sick? Beatboxing? At least one of my colleagues failed to notice that the performers were men in drag and not actual beauty pageant contestants. As if the army boots and socks (not to mention the mustache on the leftmost dancer) didn't make that obvious. From the Arthur W. Hope papers.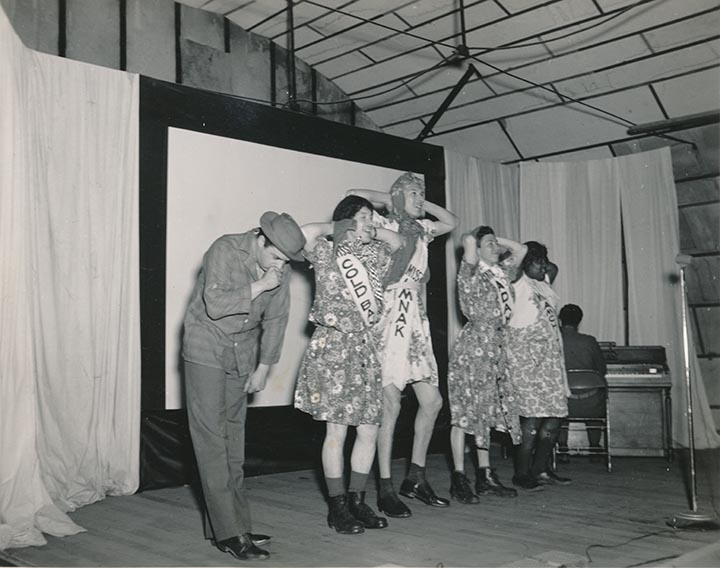 Veronica:
"Man with sword in mouth." It is just one in a collection of great photographs taken by Alfred Winterton, who was a photographer in the Second Photographic Mapping Squadron stationed in Alaska. I love all the photographs in the collection, but this was probably my favorite. It's obvious the man was putting on some sort of production. Maybe he's pretending to be a pirate? Or Peter Pan? I'm not sure. But the fact he's shirtless, has wild eyes, and there's a sword in his mouth make this a great photo (in my opinion). Plus most of the men in the background appear to be amused, except for one. From: Alfred L. Winterton photographs.