Some of you might have spotted this image that we put on our Facebook feed on Thursday 2/27/14. (To see a larger, readable version, you can click on the image.)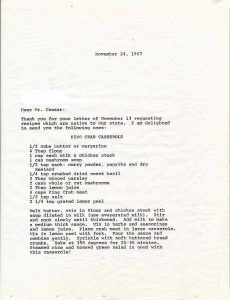 Now, I don't like crab so this isn't a recipe that normally I'd look at twice. Except I'm a bit of a recipe geek and I had to do some menu planning and grocery shopping last night (our departmental chocolate stash doesn't refill itself). I got to wondering: what would it cost to make this casserole today?
A few things I left out. Given the price of flour would be negligible and the spices and herbs relatively hard to calculate (plus all of us already have all of these in our pantries), I left those out. But the rest can be calculated. The prices I'm using are the shelf price at one grocery store I went to last night–some on sale, some not–and for those of you outside of Alaska, I'm sure you'll raise your eyebrows at a few of these!
Butter: the lowest priced butter was 3.39/lb. 4 sticks in a pound, we need 1/2 stick. 1/8 of $3.39 is $0.42.
Milk: the half-pint milk carton (1 cup) was $0.89.
Chicken stock: chicken broth was $1.69/can, a can holds 2 cups. $0.85.
Mushroom soup: 1 can of cream of mushroom soup was $0.99.
Mushrooms: $0.99/can = $1.98.
Lemon juice and peel: usually I get about 1/4 c juice out of a lemon, we need 2 tablespoons, which is about half that. Lemons are $0.99 each, we need 1/2. $0.50.
Crab: last but anything but least! This is, of course, the biggest cost item on the ingredient list and part of the reason the recipe caught my eye. I priced it out with both canned and fresh. Canned king crab meat was $3.59/can, it would take 4 of these cans to make 4 cups of meat, for a total of $14.36. However, fresh crab legs were available at $35.99/lb. One web source we found indicated that a pound of crab legs would produce 2 cups of crab meat, so that would be $71.98.
So for the budget conscious types, you could have purchased the ingredients for this casserole yesterday for $25.62 (plus some incidentals). For those of you big spenders, you'd be looking at $83.24.
And I can't let the subject go without sharing one of my favorite historical images related to king crab. From the Ann and Robert Mounteer papers. Bill Ritter putting some king crabs into a cooking vat at the Alaska-Fresh processing plant on the Homer Spit in August 1952.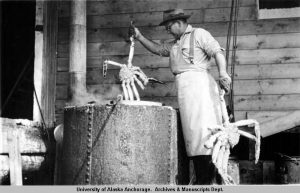 Hope you're planning on inviting some company to share it with you!