For a month in which all but 2 days had at least one of us gone, we were pretty busy!
20 images from the Christine McClain papers
205 images from the Bill Bacon photographs (Thanks to Keelin, a Library Access Services employee who has been doing some work for us)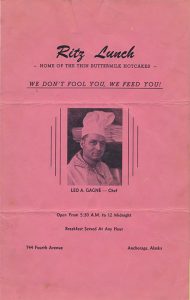 6 Alaskan restaurant menus (Also placed in an online exhibit in Omeka.)
32 images from P. Gordon Gould papers
19 photographs from Millard R. Preston photographs.
Processing (housing, gaining intellectual control over, and describing) collections:
Ephemera collections:
EPH-0070-AHS: Pacific Northern Airlines stickers, undated
EPH-0423: Anchorage Musicians Association jazz concert program, undated
EPH-0424: Hunting guide flyers, undated
EPH-0425: Alaska Game Commission beaver trap instructions, 1931
EPH-0426: Cordova tourist pamphlets, undated, 1930.
Archival collections:
University records collections:
We also completed a shelf-read of the oversize box shelving area. This was the first shelf-read of the area in over 17 years and that time includes when we moved into our space. So as you might expect, over 17 years and with a massive collection move, and add to that a change in shelf numbering systems about 10 years ago, things weren't always quite where we thought they should be. But that's all fixed now.
Outreach and advocacy:
The Alaska Historical Society, with support from many other Alaskan organizations, has been working on advocacy efforts on behalf of Alaskan archives. Dr. Ian Hartman, of AHS and the UAA History Department, has had students creating some videos showing the importance of archives to research. The first one features Dr. Jennifer Stone and students in her History of English Language class from the fall 2018 semester at UAA. We encourage you to give it a watch. Our students are doing some amazing research and listening to them talk about what it means to them is truly special.
For our June ArchivingAK podcast, Arlene interviewed Sara Pace from the Exxon Valdez Oil Spill Trustee Council about their archival holdings housed at the Alaska Resources Library and Information Service. It's a fascinating look at a research collection that many people don't know exists.
The second week in June we put up an exhibit for Pride Month. The exhibit cases in the Great Room of the Consortium Library have photographs, documents, and memorabilia relating to LGBTQ+ Anchorage history. Since our collections include at least 2 banners from prior PrideFest parades and those didn't fit in the exhibit cases, for now they're hanging in the windows of the Archives on the third floor of the library.
And… We had a booth at PrideFest on 6/29 too. Always a wonderful chance to get out into the community and let people know that we're interested in making sure our collections represent our community as much as possible!