Most of our time this month went to working on multi-institutional topic guides and preparing for our session at the Alaska Library Association Conference in Juneau the first weekend of March, but we also released two podcasts, described some new collections, added photographs to Alaska's Digital Archives, including our 20,000th item, and completed a new exhibit.
Topic guides
Last year we received a $15,000 Inter-Library Cooperation grant through the Alaska State Library and the Institute of Museum and Library Services to create a series of guides to primary sources held at archives, libraries, and museums in Alaska. We spent a good portion of our work this month working on the guides and the first batch is now available from the SLED website. The list is below:
Collections described
Bruno Kroon papers; circa 1919-1920. HMC-1307. We received a 70MB addition to the Bruno Kroon papers. This addition contains digitized copies of letters written by Kroon to his family in the Netherlands. Since the letters are written in Dutch, Kroon's great-niece Anja, who donated the collection, also provided us with translations of the letters. The letters were sent by Kroon while he was in Milton-Freewater and Union, Oregon, Seattle, Washington, and False Pass, Alaska. In the letters, Kroon discusses the weather, hunting, music, cost of living in Alaska, and his work pay.
Alvin Doane photograph albums; circa 1942-1943. HMC-1311. Alvin Doane enlisted into the U.S. Army, and subsequently served with the 340th Engineer Regiment, which was involved in the construction of the Alaska Highway from 1942-1943. Alvin Doane died in 1987. The collection contains two photograph albums with photographs taken and collected by Alvin Doane which depict the construction of the Alaska Highway. Subjects of the photographs include men working on the Alaska Highway, equipment and machinery, bunkhouses, tents, hunting and fishing, liquor stores, Whitehorse and Carcross, scenery, and Quonset huts. The collection also includes a pressed flower and a napkin from the White Pass and Yukon Route train.
15 images from Bruno Kroon papers. The photographs depict Kroon, canneries, people, and buildings in Morzhovoi Bay and King's Cove, and Boca De Quadra, Alaska.
22 photographs from Charles V. Lucier papers. The photographs added to the Digital Archives from the Lucier papers were all taken in Sheshalik, 1952.
We also added our 20,oooth image to Alaska's Digital Archives. The photograph we chose, from the Charles V. Lucier papers, depicts Della Keats cooking beluga muktuk in Sheshalik, 1952. Della Keats was an Inupiat healer and the Della Keats Summer Research Program at University of Alaska Anchorage was named for her.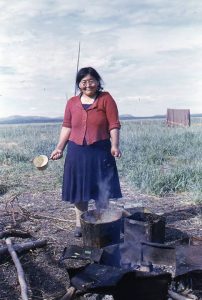 New exhibit
We also have a new exhibit on the first floor of the UAA/APU Consortium Library near the entrance to ARLIS. Our exhibit, titled "Faces of the Archives," features photographs along with a brief biographical note of the people whose lives are represented in our holdings.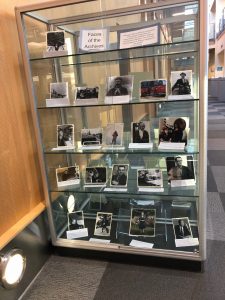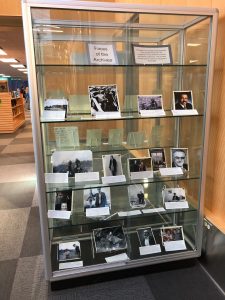 Podcasts
We also released two podcasts this month. In episode 11, Gwen interviewed Rosemary Austin, an archivist at the Alaska Aviation Museum. And for episode 12, Veronica interviewed Ian Hartman, UAA history professor. The podcasts are available below: