Do you know about PARK(ing) Day? It's a once a year event where people turn parking spaces into "parklets." We're participating this year, but we're doing an archival spin on it: we're hosting a PARK(ives)! We'll be taking over a space in the Library parking lot on Friday and creating a space for you to create a document and add yourself to the Archives.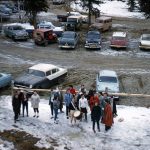 Details: Friday, September 21, 9 am – 4 pm, we'll have a space out in the Consortium Library parking lot (across from Providence Hospital near the intersection of Providence Drive and Alumni Drive).
Document your Alaska: come share a memory, tell us a story, perform a song, write a poem, write a diary entry, draw a sketch from your day, download a photo, whatever you like.  We'll have notebooks and sketchpads and video and audio recording equipment. As well as some pens, pencils, watercolors, and so on. You're welcome to bring your own supplies to create your document if you like.
AND: for those of you coming by car, parking is free on campus this Friday so pull up to a spot near our PARK(ives) and come visit.
We'll add the results to the Archives and share some on social media.
Oh, and if you have any questions about the Archives and what research you can do, we can answer those questions too.