Guide to the Rusty Dow papers
1886-1989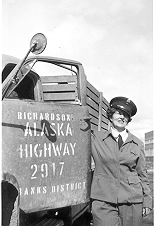 Collection number: HMC-0397.
Creator: Dow, Rusty.
Title: Rusty Dow papers.
Dates: 1886-1989.
Volume of collection: 3.70 cubic feet.
Language of materials: Materials in this collection are in English.
Collection summary: Papers and photographs of an Alaskan artist and drayage operator.
Biographical note:
Benzie Ola "Rusty" Scott was born in Wallis Station, Texas in 1894. She attended high school in Carlsbad, New Mexico and later moved to California. In 1934, with her parents John and Ward Scott, she moved to Alaska to join her brother, Lannah Zoell Scott, who had settled a homestead in the Matanuska Valley. Having worked as a truck driver in California, Rusty operated her own trucking and transfer service in the Palmer area and between Anchorage and the Independence Mine. She married Russell W. Dow in December 1939, and moved with him to Anchorage. During World War II, Rusty Dow was a driver for the Quartermaster Corps, Colonel Benjamin Talley of the Army Engineers Area Office, and General Simon Buckner, all at Fort Richardson. In 1944, she became the first woman to drive the Alaska Military Highway from Fairbanks to Dawson Creek in the Yukon Territory and return with a load of cargo. She was also the first woman to drive through the Anton Anderson Memorial Tunnel (Whittier Tunnel) in November 1942. In 1947, she and her husband homesteaded a parcel of land north of the Knik River. At that time, she operated a shopping service to Anchorage. From 1950 to 1955, she worked for the Bureau of Reclamation as a clerk and operator at the Eklutna Power Plant. From 1972 until her death in 1989 she was a resident at the Palmer Pioneer Home. Rusty was well known in Palmer for her painting, particularly for her work with fluorescent oils. She also taught art classes at the local community college. She was active in such organizations as the Pioneers of Alaska and the Matanuska Valley Fair Board.
Collection description:
The collection contains the papers and photographs of Rusty Dow. Included in the collection are personal papers, correspondence, journals and diaries, legal documents, employment and financial records, art work including sketches, Christmas greeting cards, and post cards, and photographs (over 1,500).
Arrangement: The collection is arranged in the following series:
Series 1: Personal and employment records; undated, 1936-1989
Series 2: Art; undated, 1942-1950
Series 3: Objects; undated
Series 4: Photographs; 1886-1978
Alternative formats: The collection includes a xerographic copy of the Scott family photograph album, as well as several contact prints and copy negatives of photographs.
Digitized copies: Selected materials have been digitized and are available on Alaska's Digital Archives by searching for "Rusty Dow."
Rights note: Archives holds copyright to materials created by Rusty Dow. Copyright to collection materials not created by Rusty Dow may be subject to copyright restrictions.
Preferred citation: Rusty Dow papers, Archives and Special Collections, Consortium Library, University of Alaska Anchorage.
Related materials: Archives also holds the papers of Rusty's husband: Russ Dow, HMC-0396.
Acquisition note: The collection was presented to Archives by Em Dow. A deed of gift was signed in 1993. Additional materials were added in 1996.
Processing information: This collection was described by Jeffrey Sinnott in 1996. The collection was converted to current standard by Veronica Denison in 2014.
Container list:
Series 1. Personal and employment records; undated, 1936-1989. 0.80 cubic feet.
This series contains Rusty Dow's diaries and journals, personal and work related correspondence, legal documents, and papers relating to her drive on the Alaska Military Highway and through the Whittier Tunnel, Alaska Steamship Company menus and itinerary, and an audiocassette recording of an interview she gave for the Alaskan Pioneer Women Oral History Project.
Box/

Folder

Description
Dates
1/1
"Holing Through" Ceremony, Whittier Tunnel; Fairwell certificate for Lt. Col. James D. Bush, Jr signed by members of the Fort Richardson Army Corps of Engineers office; Letter of introduction by Corps of Engineers Transportation Officer for Dow on her trucking mission on the Alaska Military Highway; Hibbard School of Painting, Bearskin Neck brochure; Matanuska Valley, Alaska; Compiled by Al Brooks and benefiting the Matanuska Valley Chamber of Commerce; Alaska Legislature proclamation honoring Dow; Funeral program and personal and family record; "Rusty and Russ Dow, Sourdoughs" by E. Borigo
1942-1989
1/2-5
Newspaper and magazine clippings regarding Dow
1942-1989
1/6
Draft by Rusty Dow of her trucking mission on the Alaska Military Highway (original and copy)
undated
1/7
Correspondence
1942-1975
1/8-16
Diaries and journals
1939-1969
1/17
Legal documents: Agreement with Anton Anderson; Ownership of Land in Palmer; Motor Vehicle Certificate; Automobile bill of sale; Lawsuit against P.H. Felton
1938-1972
1/18
Employment records: Post Exchange Office card; Driving permit; Federal employment
1946, 1954
1/19-21
Financial records: Expense journal, Alaska State Fair balance sheet; Receipts and list of art post cards on consignment
undated, 1965, 1969
1/22
Autograph books: ARRC Days
1936-1944
1/23
Address book
circa 1952
1/24
Identification and membership cards: International Brotherhood of Teamsters, Anchorage Ski Club card and ribbons, Valley Hospital Association, INC., Alaska Military Highway permit card
1941-1968
1/25
Alaska Steamship Company menus and itinerary: S.S. Northwestern, S.S. Yukon, S.S. Columbia, S.S. Baranof, The Yukon Trail
1941-1952
1/26
Audiocassette: Oral history of Alaskan Pioneer Women interview of Rusty Dow with Russ Dow present, conducted by Maria Brooks in Palmer
1980
1/27
Alaska Crippled Children's Association Christmas greeting cards
undated
1/28
Christmas greeting cards
undated
Series 2. Art; undated, 1942-1950. 1.30 cubic feet.
This series contains Dow's art work, including various sketches and paintings, Christmas greeting cards she illustrated for Alaska Crippled Children's Association as well as papers listing art shows and exhibits.
Box/

Folder

Description
Dates
1/29
Art shows and exhibits papers
undated, 1942-1950
1/30
Sketch book
1943-1944
1/31
Notes on the fundamentals of clay modeling
undated
1/32
Rusty Dow's Christmas greeting cards for Alaska Crippled Children's Association
undated
1/33
Rusty Dow's art post cards
undated
Box 5
Sketches: color chalk, pencil and/or pen on paper, sepia or blue copies of sketches, onion paper sketches, watercolors, oil on paper. pen, pencil, watercolor, or oil on mylar, art clippings and examples
undated
Box 6
Painting: "Copper River Valley, Richardson Trail"
undated
Series 3. Objects; undated. 0.20 cubic feet.
| | | |
| --- | --- | --- |
| Box | Description | Date |
| 7 | Leather blackjack (black, 8 inch long with 8 inch strap) | undated |
| 7 | Pince-nez glasses in case | undated |
Series 4. Photographs; 1886-1978. 1.40 cubic feet.
This series contains photographs, and one photograph album, of Rusty Dow. Subjects include scenery, cabins, animals, Rusty and Russell Dow's life in Alaska, as well as family. A majority of the folders contain the original prints, negatives, contact prints, and copy negatives.
Box/

Folder

Description
Dates
Box 4
Scott family photograph album: original photo album with loose prints
undated
2/1-3
Scott family photograph album: contact prints, copy negatives, and xerographic copy of the photograph album
undated
2/4
Scott family portraits, includes Rusty Dow's parents
undated, 1886
2/5-8
Friends and family in California: Rusty Scott, her family, and friends in California, where they lived in the Los Angeles area. Family members pictured include father Jack, mother Ward, and brothers Homer, Zoell, and John. Most of the photos are of Rusty in various dress. Localities include ocean beaches, houses, farms, and parks
undated
2/9-10
Alaska: photos of Rusty's life in Alaska beginning with her trip north on the U.S.S. Yukon and ending with her mail service for the Army Engineers office at Fort Richardson. Family members pictured include her parents and brother Zoell. Locations include her parents' house and farm in the Matanuska Valley, the tent city in Palmer, Independence Mine, Fort Richardson, and Anchorage
circa 1934-1945
2/11
Fort Richardson, Army Engineers Area Office: photos of Rusty Dow, Col. Benjamin B. Talley, and other officers and staff of the engineering office at Fort Richardson
undated, 1943
2/12
Rusty's trip on the Alaska Military Highway between Fairbanks and Dawson Creek
1944
2/13
Rusty and the truck she drove from Fairbanks to Dawson Creek; friends at Fort Richardson and Palmer
1944
2/14
Rusty and the Bear Cubs
undated
2/15
Rusty Dow Paintings in the Alaska Bank of Commerce Exhibit
undated
2/16
Photographs of Rusty Dow
1957-1976
2/17
 1947 Trip: Canada to Kansas
1947
2/18
 Alaska Railroad automobile on tracks and about 30 people posed outside of cabin
undated
2/19
 Mt. Alyeska Ski Resort and U.S. Army Overland Train
circa 1961
2/20
 Anchorage: Fourth of July Parade
undated
2/21
 Anchorage Ski Club rope tow
undated
2/22
 Doug Barnesby, pilot Vera Lieble, and airplane
undated
2/23
 Bears and Dogs: two bear cubs in pen and various dogs
undated
2/24
 Boat ride: boat harbor, Russ and dog Roudy aboard fishing boat at dock
undated
2/25
 John Bugge hauling wood on a sled
undated
2/26
Gold mining mill at Moose Creek, caches, and cabins
1945 May
2/27
Trip to Canada: Dawson, Midnight Dome, ghost town(s), gold dredges, panning for gold, scenery, and the Dow Homestead
undated
2/28
Cabins
undated
2/29
Caribou & Inside Shots: man with caribou tied to car hood across from the Gitchel, Hotel in Anchorage and interior shots of a living room/studio
undated
2/30
Tram over the Chitina River
undated
2/31
Cook Inlet at sunset
undated
2/32
Copper Center
undated
2/33
Copper River Dancers, Indians
undated
2/34
Copper River Dancers, bears near railroad
undated
2/35
Dog Races
circa 1957
2/36
Dogs; Dogs in winter: dogs, Rusty with dog, and horse pulling people on sleigh; Dogs, cabins and caches, tent, and scenery
undated
2/37
Lee Dow visiting Russ and Rusty at cabin on Bootleggers Cove
undated
2/38
Dow Cabin and vicinity
undated
2/39
Dow Homestead: ground clearing
1947
2/40
Earthquake: helicopter, new house on Dow Homestead
1960-1964
2/41
Eklutna area: Alaska Railroad, street with train station and restaurant/post office, cabin, Rusty washing car, boy scouts at picnic area, Rusty's nephew, Knik River Valley, caribou on hood of car across from Masonic Temple in Anchorage
undated
2/42
Eklutna Job: constructing tunnel for power plant, Knik River Bridge, lake George Breakup
undated
2/43
Eklutna Power Plant interior, Rusty in her studio, tractor clearing field
1957 May
2/44
Fair pictures and flood
1953
2/45
Fair Queen
1953
2/46
Fish camp, lake, trestle bridge, and road
undated
2/47
Gloucester, Massachusetts
1949
2/48
Knik and the Little Susitna Lodge
circa 1949
2/49
Knik River Bridge; Knik River flood: removing car from river, Ashby, Copper Center
undated, 1953
2/50
Knik River winter scenes
undated
2/51
Matanuska Valley Fair: Bryant Cat moving exhibit cabin
undated
2/52
Matanuska Valley farm: old log farm buildings, geese, and haystacks in field
undated
2/53
Matanuska Valley farm, Eklutna Flats, Rusty painting building, cabins, caches, and scenery
undated
2/54
Matanuska Valley farm, John Bugge's cabin, woman in front of airplane, and old cabins
undated
2/55
Meekins Roadhouse, waterfall, and cabins
undated
2/56
Moose and Sled Dogs
undated
2/57
Palmer tent city with Jack Scott's truck at left
circa 1935
2/58
Picnic near cabin on river
undated
2/59
Portage Glacier: Russ and Rusty Dow
undated
2/60
View toward Portage Lake from Portage Creek
undated
2/61
Potato harvest: Rusty Dow, Zoell Scott and family
1945
2/62
Rusty Dow
undated
2/63
Salmon spawning, fish wheel
undated
2/64
Scott family: photographs of Zoell Scott's wife Helen and their five children
undated
2/65
Jack Scott visiting at cabin on Bootleggers Cove in winter and dogs
undated
2/66
Jack Scott and Rusty at train station, Jack Scott, Zoell and Helen Scott, and Russ and Rusty Dow near cabin on Bootleggers Cove
undated
2/67
Rusty's nephew, dog Roudy, and parrot
undated
2/68
Sheep Mountain Lodge, Tazlina Lodge, and Dow Homestead
undated
2/69
Sled-dogs, Russ and Rusty with old white horse
undated
2/70
Snow Slides
1949, 1961
3/1
St. Michael village and McGrath
1956
3/2
Talkeetna, Copper Center Lodge
undated, 1965
3/3
Taos, New Mexico (water damaged)
circa 1957
3/4
Waterfall
undated
3/5
Westein truck: Rusty on the running board of dump truck; Whaling village
undated, 1945
3/6
Clearing field with a tractor, fishing boat
circa 1957
3/7
Old wagons, General Richardson memorial near highway, Rusty and unidentified man, military police on ski hill, man feeding pigeons, cabin on Bootleggers Cove, street in Valdez, small dam, dog Roudy on car hood, and Rusty and five men; natives and sled dogs; Rusty, parrot, and friends
undated, 1939
3/8
Rusty and dogs on bench, caches, old cabins, docks, waterfall, and Copper Center Lodge
undated
3/9
People at party or picnic, old cabins, new cabin, and moose
undated
3/10
Portage Glacier, Dow cabin on Bootleggers Cove in winter, Jack Scott home in winter
undated
3/11
Painting: pack horses, Mt. McKinley
undated
3/12
Rusty's truck in State Fair parade at Palmer Pioneer Home; Painting of red-headed nude; Stage scenery at Hillside School and ornaments cut from tin cans
undated, 1962, 1978
3/13
Alaska Military Highway, scenery, people, cabins
undated, 1944
3/14
Rusty Dow (contact prints)
undated