Frances and Harry Walton correspondence
1923-1952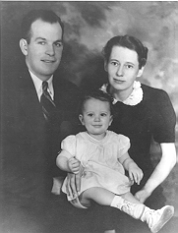 Collection number: HMC-0342.
Creator:
Walton, Frances.
Walton, Harry.
Title: Frances and Harry Walton correspondence.
Dates: 1923-1952.
Volume of collection: 0.6 cubic feet.
Language of materials: Collection materials are in English.
Collection summary: Letters to and from a couple who moved to Alaska in 1936 and spent time in the Matanuska-Susitna valley and in Livengood.
Biographical note:
Harry Walton was born on March 13, 1901 in Saskatchewan, Canada. He left home at the age of twelve and worked as a cabin boy on Canadian cargo ships to the Orient. During World War I he joined the Canadian Army and was sent to England, where he remained throughout the war. Returning to Canada after the war, he worked at various mines in British Columbia and on Prince of Wales Island, Alaska. In 1929, he worked for the Cork Insulating Company of Seattle, where he met Frances Moberg. They were married at Mount Vernon, Washington in August, 1930. Frances Moberg was born on July 7, 1903 at Miranda, South Dakota. In 1917 her family moved to Mount Vernon, Washington where Frances graduated from Mount Vernon High School in 1923. She then attended business college in Seattle and went to work for the Cork Insulating Company, where she met Harry Walton. In 1936, Frances and Harry Walton came to Alaska where Harry went to work for the Matanuska Valley Colonist Association. Harry remained in his job until 1937, when it became the policy that only actual colonists could work for the Association. Harry then went to Fairbanks where he worked on mining jobs near Livengood. Frances returned to Seattle where their daughter Kathleen Suzanne was born in December 1937. Frances returned to Fairbanks with Kathleen in July of 1938, and they remained there until 1940, when Frances and Kathleen moved to Vashon Island, Washington. Harry remained in Alaska and went to work on the construction of the naval base at Kodiak, where he worked until 1942. He then went to Vashon Island, Washington. Frances and Harry moved to Seattle in 1944 where Harry worked as a carpenter until his death in 1961. Frances died in 1974.
Collection description:
The collection consists of letters and correspondence to and from Harry and Frances Walton while in Alaska and later, in Washington.
Arrangement: The letters are grouped into three sections: letters from Frances to her parents, letters between Frances and Harry, and letters between Frances or Harry and others. Within those groupings, letters are generally in chronological order. Many of the envelopes to the letters are with the letters but additional envelopes are at the end of the collection.
Alternative formats: Some letters from Frances to her parents have been transcribed and are located with the originals.
Digitized copies: This collection has not been digitized. For information about obtaining digital copies, please contact Archives and Special Collections.
Rights note: The Archives holds copyright to collection materials. Incoming correspondence may be subject to copyright not held by the Archives.
Preferred citation: Frances and Harry Walton correspondence, Archives and Special Collections, Consortium Library, University of Alaska Anchorage.
Acquisition note: The collection was given to the Archives by Kathleen Walton Birkland, Harry and Frances' daughter, in 1988.
Processing information: This collection was originally arranged and described prior to 1995. The guide was reformatted to current standards by Arlene Schmuland in 2014. Letter transcripts were moved from the end of the collection to the location of the original within the collection at that time.
Container list:
| | | |
| --- | --- | --- |
| Box/Folder | Description | Dates |
| 1/1-3 | Frances Walton to her parents, from Palmer, including transcripts | 1936 July-1937 March |
| 1/4-12 | Frances Walton to her parents, from Fairbanks, including transcripts | 1937 April-1940 July |
| 1/13 | Letters, Harry to Frances, from Westminster, BC and southeast Alaska | 1930, 1935-1936 |
| 1/14 | Letters, Harry to Frances, from Fairbanks, Alaska | 1937-1941 |
| 1/15 | Letters, Harry to Frances, from Alaska | 1942 |
| 1/16 | Letters, Harry to Frances, from Washington | 1942-1945 |
| 1/17 | Letter, Harry to Kathy Sue Walton (daughter) | 1952 |
| 1/18 | Letters, Frances to Harry | 1942 |
| 1/19 | Letters to Frances | 1923-1952 |
| 1/20 | Letters to Harry | 1940, 1942 |
| 1/21 | Envelopes | undated |