HARRY I. STASER FAMILY. Papers; 1891-1977.
.9 cu.
ft.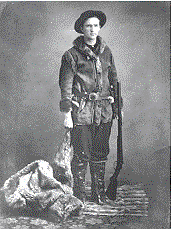 Harry Staser was born near Evansville, Indiana, in 1891. He
traveled to Seattle in 1909 and made sev
eral
trips to Alaska in 1910, 1911, and 1912. He went to Fairbanks,
Alaska, in 1915, and worked on the construction of the Alaska
Railroad. After serving in World War I, he studied mining. He
returned to Alaska in 1919, the year in which his son, Bruce,
was born. Harry Staser later left the railroad for work in various
gold mines. From 1924 to 1932, he served as U.S. Marshal. In the
latter year, he purchased a gold mine near Girdwood, Alaska, which
he worked until 1940. He died at the mine on February 8, 1940.
His wife, Barbara, died in 1953.
This collection consists of copies of original records in the
possession of the Staser family. Included among the copied papers
are the last letter written by Harry Staser in 1939, a 1933 newspaper
article on the Monarch Gold Mine, letters and postcards in the
family albums, newspaper clippings, and copies of six photograph
albums. In addition, there are over 140 black and white prints
and negatives copied from the original photographs in six family
albums. The photographs concern the Staser and Thies families,
especially Harry I. Staser, Bruce Staser, and Betty Jo Thies Staser.
They depict early Anchorage and Fairbanks buildings, vehicles,
freighting by sled and school life at the University of Alaska,
Fairbanks.
The collection was copied by the archives with the permission of Bruce Staser
of Anchorage, Alaska, in 1980. Additional items were added in
1986.
HMC-0233
Box and Folder List:
Box 1
1. Biographical Information.
2. Article, "The Monarch Gold Mine," Anchorage Daily
News Progress Edition; 1933.
3. Letter, Harry I. Staser to Bruce Staser; December 13, 1939.
4. Correspondence from 1891-1941 Album; 1909-1969.
5. Correspondence from Theis Family Album; 1904-1929.
6. Album; 1891-1918 (negatives).
7. Bruce Staser Album; 1919-1941 (negatives).
8. Thies Family Album; 1921-1939 (negatives).
9. B. J. Thies Album; 1939-1943 (negatives).
10. Staser family, Fairbanks Album; n.d. (negatives).
11. Photo Album; 1977.
12. Notes from 1891-1918 Album.
13. Notes from Bruce Staser Album; 1919-1941.
14. Notes from Thies Family Album; 1921-1939.
15. Newspaper Clippings, Harry Staser U.S. Marshall, Anchorage;
1923-1933.
16. Newspaper Clippings, Harry Staser, Miscellaneous; 1921, 1926,
1933, 1940.
Box 2
Copied Photographs (prints).